Your World Will Never Be The Same
By Greg Gillis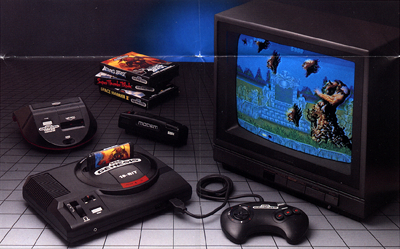 A photo from an early promotional poster for the Genesis system. Note the Mega Drive Altered Beast cartridge!
IN AUGUST OF 1989, Sega released their second game console in North America. Dubbed Sega Genesis, the system was essentially identical to their Mega Drive console which had debuted in Japan a year earlier.
It seems that in the early days of the Genesis there was some confusion regarding the specifications of the hardware. Some sources claimed that the system could display hundreds of thousands of colours simultaneously, while others insisted that it was capable of "hardware scaling" of sprites. The system's actual specifications, while not quite so outlandish, were impressive nonetheless: Featuring a true 16-bit Motorola 68000 CPU, the ability to display 64 colours simultaneously from a palette of 512, a standard display resolution of 320 x 224 pixels, hardware assisted parallax scrolling and, for the first time, standard stereo sound, the Genesis system was arguably the most powerful game console ever created.
While by no means a complete failure, Sega's previous game system, the Sega Master System, had never been able to match the success of it's chief rival, the Nintendo Entertainment System, and so it was hoped that Sega's new 16-bit powerhouse would improve their fortunes in the North American market.
"With the release of its new 16-bit machine well ahead of whatever Nintendo may be cooking up, Sega has a golden opportunity to close much of the gap. Whether or not it succeeds will be determined not by the machine, which is an engineering marvel, but by the games that Sega and other developers will give us to play on it."
- Burt Hochberg, Games Magazine February/March 1990
A lot happened between August 1989 and the end of 1990. After an early drought of game titles following the system's launch, Sega set about signing up as many third-party licensees for the Genesis system as they could get. Some of these names, such as Electronic Arts, would be familiar to the gamers of today. Others, such as Seismic, Treco and Renovation have long since disappeared...
Sega broke the record for the largest game cartridge ever released in North America twice in 1990, first with the 6 megabit adventure Phantasy Star II, and subsequently with an 8 megabit arcade conversion of Strider. The much-delayed TeleGenesis Modem, which would allow players to compete across the phone lines using games such as Cyberball, was slated for release in the fall of 1990.
Speculation about what Nintendo's Super Famicom (the successor to the NES) would be like and when it would be released ran rampant in 1990. The NEC TurboGrafx-16 and its optional CD-ROM drive were also getting quite a bit of press at the time. Nevertheless, by the summer of 1990 Sega announced that they anticipated North American sales of their Genesis system would exceed 1 million units by the end of the year, putting them in first place in the 16-bit market.
What follows is a roughly chronological account of the software released for the Genesis system during its first year or so in the North American market. I have attempted, as much as possible, to put the games in their proper historical context by featuring their original print ads, as well as comments and criticisms made by contemporary reviewers, "industry types," and... uh, me. Quotes were selected based upon how insightful, informative, amusing, or downright ridiculous they were. Enjoy!
"Although Genesis may never dominate the marketplace, it will take a large chunk of the action, as more and more people become aware of the advantages of 16 bits over 8 bits of computing power."
- Frank Eva, VG&CE August 1990