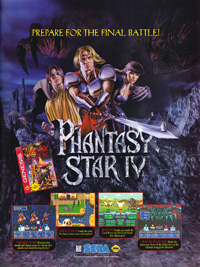 The explosive finale!
Phantasy Star IV: The End of the Millennium
Sega
24 megabits
After a lengthy delay, Phantasy Star IV finally arrived on North American shores in early 1995. It was worth the wait, playing like a true sequel to Phantasy Star II, only with more of everything.
Widely varied and detailed graphics, including backgrounds for the battle scenes, as well as all-new comic book style cinema sequences are featured throughout the game. Side quests, battle combo moves called macros, and vehicular combat comprise some of the additional new game play elements. The sprawling storyline is equally impressive, with a host of compelling characters and an excellent English translation.
The music in Phantasy Star IV also deserves special mention, with a huge variety of great tracks by Izuho "Ippo" Takeuchi and Masaki "Gaki Chan" Nakagaki. Sadly, Tokuhiko "Bo" Uwabo isn't involved as a composer this time around, although the game does feature remixes of a couple of his tunes from the original Phantasy Star on the Master System.
Phantasy Star IV is like a "greatest hits" of the series up to this point, taking all of the elements that worked well in previous games and improving upon them, while jettisoning anything remaining that didn't. While I still have a nostalgic soft spot for part II, Phantasy Star IV remains one of the best games on the Genesis, and one of my favourite games of all time. It's about time Sega offered Rieko Kodama a stack of cash to make another sequel...
"Never before has the Sega RPG gamer experienced such fantastic art, music, and gameplay, and the levels of joy reached while playing this title may cause even the oldest RPG hand to suffocate with the absolute magnificence of it all."
- Nick Rox, GameFan April 1995
"Sega's testing the RPG waters with this title, it's 85 bucks in a paper box with Xerox instructions, and the bonehead magazines have already done completely wrong and damaging reviews."
- Skid, GameFan April 1995
"If you're one of the many RPG-starved Genesis owners who have been waiting diligently for this game, don't worry — it's still plenty of fun. But with nothing that goes above or beyond the previous titles — including the same 'mysterious' end boss — the future of this series isn't very bright."
- Next Generation March 1995