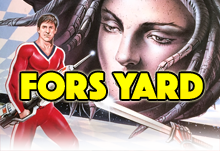 1995
"Third party support for the Genesis has all but disappeared. If not for Playmates, who showed an early rev of EWJ2, Wildcats, and Mutant Chronicles, the [E3] show floor would have been almost void of any Genesis product. How quickly they forget..."
- GameFan July 1995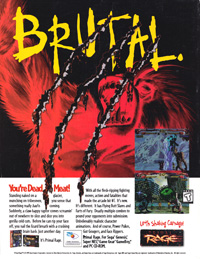 Something really bad is coming.
Primal Rage
Time Warner Interactive
16 megabits
Cashing in on the gory fighting game craze started by Mortal Kombat, Primal Rage created a splash upon release with its digitised, stop-motion monster animations and violent fatalities. Ported to just about every home system around at the time (yes, even the Jaguar CD), the Genesis release is generally considered one of the weaker versions due to its sub-par graphics and awkward control scheme.
"Graphically, the 64 color barrier coupled with a handful of minor (and a couple major) visual flaws make some of the game an eyesore. The arcade original drew a lot of attention with its slick artistry and awesome stop-frame animation, but much of that graphic punch flies right out the window in the Genesis version."
- The Stalker, GameFan September 1995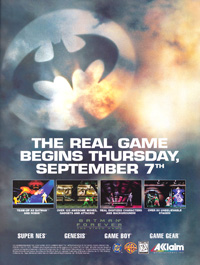 Over 80 unbelievable stages!
Batman Forever - The Video Game
Acclaim
32 megabits
It was a shame that there were so few licensed superhero games released for the Genesis in 1995. Fortunately, Acclaim stepped up to the plate with Batman Forever, and there was much rejoicing...
"Why do you have to press up to jump? Because the control mechanism in BF is ultra-complicated. Read the manual; trust me, this is one time you'll have to."
- Takahara, GameFan October 1995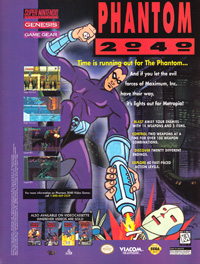 Also available on videocassette.
Phantom 2040
Viacom Newmedia
16 megabits
Another scrolling action game for the Genesis, although in this case with more of an emphasis on exploration, similar to games like Metroid. Apparently Phantom also features twenty different endings, depending on which path players choose to take, which is rather impressive for the time.
At least it comes with a two week gym membership...
Foreman For Real
Acclaim
16 megabits
Sadly, this sequel to George Foreman's KO Boxing was critically panned for its poor graphics and lifeless game play.
"The first George Foreman's KO boxing was a truly enjoyable game, but this second effort is a different story. In the three years between the games, Acclaim has managed to destroy the gameplay, ruin the graphics, and completely suck out every bit of fun."
- Next Generation November 1995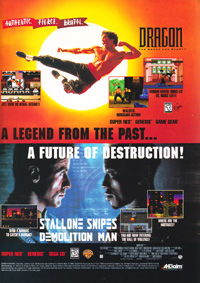 Realistic nunchaku action.
Dragon - The Bruce Lee Story
Acclaim
16 megabits
Based on the film of the same name, Dragon - The Bruce Lee Story was released first on the Atari Jaguar system, and later ported to the Genesis and SNES. The game was criticized for being generally unremarkable, but as unremarkability was sort of Acclaim's thing at the time, it really shouldn't have come as much of a surprise to anyone.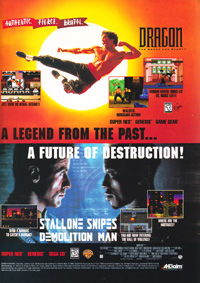 You are now entering the Hall of Violence! Rated KA.
Demolition Man
Acclaim
16 megabits
Another action/platform game from Acclaim based on a film, Demolition Man received favourable reviews for its decent game play and exclusion of Bruce Lee.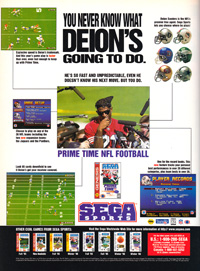 Sega attempts to upset Madden's dominance once again.
Prime Time NFL Football Starring Deion Sanders
Sega
16 megabits
In addition to this Genesis release, versions of Sega's latest NFL football game were planned for the 32X and Saturn systems, but eventually cancelled without explanation. Perhaps Sega was just playing up Deion's legendary unpredictability...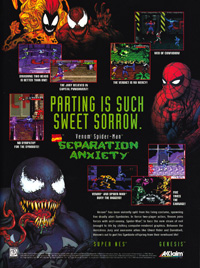 Five times the carnage.

Venom • Spider-Man: Separation Anxiety
Acclaim
16 megabits

Acclaim's Maximum Carnage sequel lets you play as either Venom or Spider-Man, but is otherwise rather uninspired. Contemporary reviews contained mostly faint praise.

"The graphics, action, and sound are all on par with its predecessor, but nothing of interest has been added."
- Next Generation December 1995

Previous | 1 | 2 | 3 | 4 | 5 | 6 | 7 | 8 | Next