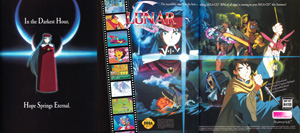 "Another glorious production in 3B!"
Lunar - Eternal Blue
Working Designs / Game Arts
CD-ROM
The second game in the Lunar series improves on its predecessor with expanded animation sequences, more voice acting, and better graphics, and became the second-best selling Mega CD title of all time in Japan. This success was overshadowed somewhat for the game's North American release, however, by controversy surrounding its English translation.
Although he initially praised Eternal Blue's story in early previews, GameFan writer Nick Rox was extremely critical of the game in his final review, accusing Working Designs of draining the drama out of the story by injecting too much contemporary humour into it. A legendary dispute on usenet ensued between Working Designs president Victor Ireland and GameFan editor Dave Halverson, in which Halverson defended Rox's Japanese linguistic skills against accusations from Ireland that the writer wasn't qualified to judge the accuracy of Eternal Blue's translation. Working Designs ultimately pulled all of their advertising from GameFan, which was a shame as the magazine had been an ardent supporter of the company, and the practice of translating Japanese RPGs for release in the West in general, for years.
Working Designs continued to bring Japanese RPGs to North America throughout the Saturn and PlayStation eras, including an updated version of this game called Lunar 2: Eternal Blue Complete for the original PlayStation.
"I won't reveal too much about the plot except that it's incredibly involving and ingeniously written."
- Nick Rox, GameFan June 1995
"Reviewing this undeniably almighty RPG is painful for me, as I am faced with the greatness of Game Arts' staff of ultra-talented artists, musicians, game designers, and scenario writers, and the pain of Working Designs' writers."
- Nick Rox, GameFan October 1995
"While the game packs in plenty of humorous asides... the tone is decidedly less goofy, with more of an emphasis on drama and storyline."
- Next Generation October 1995