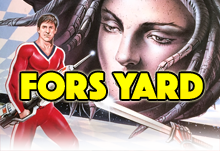 1995
"Sony has failed a few times with consumer products — we all remember Beta — and so we're all hoping that PlayStation turns out to be another Beta and that in a couple of years' time, together, we'll be able to tell people to play their Saturns on a Sony TV."
- Tom Kalinske, Next Generation February 1995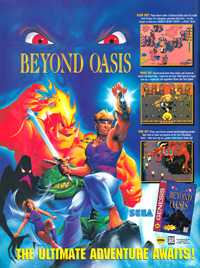 HIDDEN SECRET MOVES!
Beyond Oasis
Sega
24 megabits
Developed by Ancient under the managment of legendary game musician Yuzo Koshiro, Beyond Oasis is a colourful action/RPG — a genre that had something of a resurgence on the Genesis in 1995, between this game and Crusader of Centy.
A sequel (The Legend of Oasis) was released for the Sega Saturn system in 1996, but sadly appears to have marked the end of the series.
"Beyond Oasis is long overdue on the Genesis. Action and Role Playing fans alike will love this game."
- Skid, GameFan March 1995
"Ultimately, poor fighting and an uninspired storyline leave this title looking more like a mirage."
- Next Generation April 1995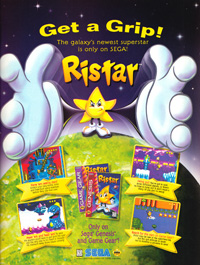 The shooting star.
Ristar
Sega
16 megabits
Sonic Team (of hedgehog fame) developed this vibrant scrolling platform game for the Genesis and Game Gear starring a... er, star. But despite its impressive pedigree, Ristar was quickly forgotten, swept aside as Sega shifted their focus toward newer platforms like the 32X and, ultimately, Saturn.
"Every aspect was handled perfectly, from the remarkable graphics and excellently composed BGM to perfect control. Everything that makes a great game tick can be found here in droves."
- Nick Rox, GameFan February 1995
"Ristar is much more than just another cutesy mascot in another cutesy platform game, Ristar is one of the best platform games to date."
- Next Generation March 1995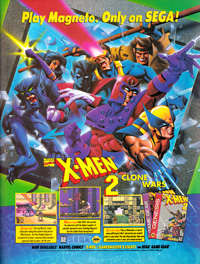 Attack of the clones.
X-Men 2 Clone Wars
Sega
16 megabits
The sequel to Sega's previous Genesis X-Men game, X-Men 2 Clone Wars got mixed reviews when it was released, but seems to have developed something of a cult following in recent years.
The game is also noteworthy for featuring a soundtrack composed by Kurt Harland, the lead singer from the band Information Society. Anyone who had a first-gen Sega CD ought to be familiar with them...
"The game still doesn't have the greatest animation or music (although it is much improved), but it does have more special effects, great artwork, huge levels, and some truly fierce bosses."
- Skid, GameFan March 1995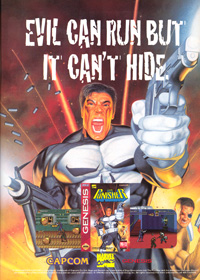 The Punisher, presumably caught in the act of punishing someone.
The Punisher
Capcom
16 megabits
Sculptured Software's lacklustre port of the Capcom arcade game garnered, er — punishing critical reception.
"There is... a noticeable lack of animation, color and detail in this obvious U.S. programmed port of the game. Why Capcom decided to make this one here, I do not know. However, if you are like me, and want to play this game at home, without spending all your arcade tokens, then this is the only game in town."
- K. Lee, GameFan March 1995
"Nothing new and not much good can be found in The Punisher. Capcom wouldn't even burn early E-proms because it didn't deem The Punisher worthy of the expense. After playing this game, we have to agree."
- Next Generation July 1995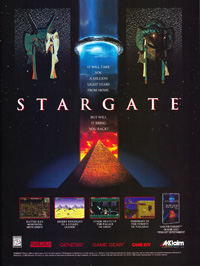 Where's MacGyver?
Stargate
Acclaim
16 megabits
A scrolling action game based on the movie of the same name, the Genesis version of Stargate was brought to us by Probe, makers of the actually-rather-good Alien 3.
"As many of you may know, I'm not too fond of European games, but I cannot disagree with the fact that this title is pure quality... and without a doubt one of the best movie-to-game translations ever."
- Nick Rox, GameFan April 1995
"Overall, Stargate is a well done game. It's just that this kind of thing has been done so many times before, and better."
- Next Generation July 1995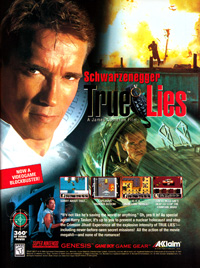 Explosive harrier action!
True Lies
Acclaim
16 megabits
Next Generation's positive review of True Lies reads like sarcasm, but not having played this particular title I can't confirm that.
"Bad art and animation, OK music and a completely off learning curve add up to a rather average title. But hey, Mortal Kombat fans! It's got BLOOD!"
- Nick Rox, GameFan May 1995
"Finally, the folks at Acclaim got one right. They took a movie license and actually made a game that is fun to play, congratulations."
- Next Generation June 1995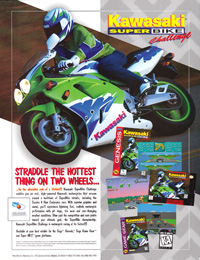 Ninja Challenge would have been catchier.
Kawasaki Superbike Challenge
Time Warner Interactive
16 megabits
Featuring a mixture of sprites and polygonal graphics, Kawasaki Superbike Challenge failed to gain much traction upon release. Traction.
"Performing on a circuit and keeping track of points does add to the overall replay value, but eventually the redundant, mundane races and lack of character traits in bikers make this game uninteresting."
- Next Generation July 1995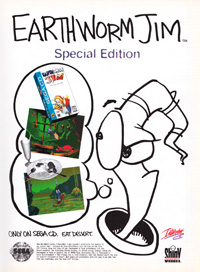 Before "Special Edition" meant changing who shot first.

Earthworm Jim Special Edition
Shiny Entertainment
CD-ROM

Featuring an all-new level and redbook audio, the Sega CD version of Earthworm Jim is a sort of "director's cut" of the game, and helped bridge the gap until the true sequel was released later in the year.

"The cool CD tunes in this new EWJ would have been enough improvement for anybody, but DP and co. added new levels and even more appealing characters. Shiny never cuts corners. Groovy."
- K. Lee, GameFan April 1995

"Taking advantage of CD's storage capacity, Shiny has added new levels and reworked existing ones, resulting in a game that really packs in the extras."
- Next Generation May 1995

Previous | 1 | 2 | 3 | 4 | 5 | 6 | 7 | 8 | Next