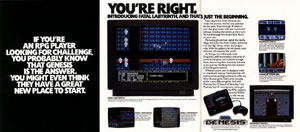 I don't know if I'd exactly call Fatal Labyrinth an RPG, but this was back in the days when Sega actually liked associating themselves with the genre...
Fatal Labyrinth
Sega
2 megabits
After the one-two punch of Phantasy Star II and Sword of Vermillion, Fatal Labyrinth was billed as the next great RPG from Sega. In reality, the game was really more of an action/adventure title with a unique ability to try your patience...
Fatal Labyrinth features only one, large... er, fatal labyrinth... and no overworld to speak of, aside from the small village from whence you start your adventure. Each level in the labyrinth is completely randomised, however, so in that respect replay value is fairly high.
Eliminating the baddies strewn throughout the labyrinth is accomplished by bumping up against them and whacking away until the party with the lower stats dies. In the background, the same repetitive tune drones on and on and on, encouraging player suicide and making the game potentially more fatal than Sega had intended...
The main problem with Fatal Labyrinth, though, is that it doesn't offer any sort of save-game feature. You turn the console off, you start over. The only alternative is to leave your Genesis system on all night while you get some sleep, but given just how engrossing this game is I doubt many players ever bothered.
Still, better RPGs from Sega were just around the corner...
"Sega's Genesis has garnered a reputation as being the machine to own if you're hot on adventure games. Role-playing contests like Phantasy Star II have attracted critical praise from reviewers and gamers alike, while Genesis' major competition, the TurboGrafx-16, continues to be weak in the adventure category. Sega's new role-playing game, however, isn't going to do much to help Sega hold their reputation."
- Clayton Walnum, VG&CE April 1991
"Even though the mazes change constantly, the game play itself never changes, let alone the music! How irritating! ... Since no passwords exist, you can only finish in one sitting. Yikes!"
- Steve Harris, EGM's 1992 Video Game Buyer's Guide
"Fans of serious repetition should check this cart out."
- Dave, Mega Play March/April 1991