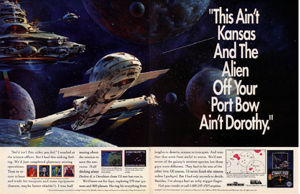 Starflight's two-page spread.
Starflight
Electronic Arts
8 megabits
Although it looks similar to Star Control in screenshots, Starflight is actually a very different sort of game. Most of the player's time is spent exploring the game's surprisingly vast universe, landing on planets and locating mineral deposits to mine. When the player lands on a planet's surface, he takes control of a lander vehicle, driving around potentially inhospitable terrain in search of goodies. It's more fun than it sounds...
There are also the obligatory space battles against weird alien races, but Starflight handles even these encounters in a unique way. For example, the player is required to repair damaged sections of his ship while the battle takes place, which adds a sense of urgency to the proceedings. There's nothing quite like desperately trying to repair your engines while being fired upon by a fleet of enemy fighters!
I suppose Starflight is something of an acquired taste, and indeed some players might be put off by the game's startlingly open-ended exploration system, but I would reccommend playing it at least once. If nothing else, it's a decent game from Electronic Arts that doesn't involve John Madden...
"Exploring the solar system and landing on various planets is interesting and the game is highly detailed. Not spectacular but solid game play wins me over."
- Martin Alessi, EGM November 1991
"Even if you beat Starflight, you'll want to play again and again because you can play from so many different angles - new crews, new paths, etc."
- Videohead, GamePro October 1991