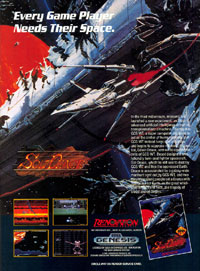 Beware the GCS-WT!
Sol Deace/Sol Feace
Renovation
8 megabits/CD-ROM
When work on Mega CD titles started in Japan in 1991, many companies simply used eight megabit cartridges they were already working on as the basis for their CD games. CD quality music and cinema displays could then be added to take better advantage of the CD-ROM format.
Sol Feace, a side-scrolling shooter from Telenet/Wolf Team, was such a game. As if to underscore its cartridge-based origins, the game was released in North America early in 1992 newly rechristened Sol Deace. The reason for the name change remains unclear...
To make matters even more confusing, Sega decided to package the original CD version of the game with the Sega CD upon its release in November of 1992, and the title was changed back to Sol Feace. It had been a remarkable journey to these shores for a rather unremarkable game.
Although its CD music is quite good and its cinema displays are reasonably impressive considering the game's release date (aside from the narrator's apparent inability to utter a sentence without mentioning the evil "GCS-WT" computer life-form at least nine times), Sol Feace is a rather run-of-the-mill Genesis shooter. There is very little about this game to make it stand out from the crowd. The graphics aren't terribly impressive (especially Wolf Team's almost embarrassing attempts to make it look like the game makes use of the Mega CD's sprite rotation capabilities), and the difficulty level increases far too rapidly while the player is treated to less and less impressive-looking stages of play.
I can't help but think that development of Sol Feace was probably rushed so it could be finished in time to cash in on the Japanese release of the Mega CD. While still fun to whip out and play from time to time, there were much better shooters available on the Genesis system that didn't require the purchase of an expensive peripheral to play.
"I was spoiled by playing the CD version so of ... course I wasn't impressed by the sound or the lack of cinema display. Otherwise this cart packs a punch and has the intense game play that most shooters are lacking."
- Martin Alessi, EGM April 1992
"I like the fact that the space junk can kill you and that you can shoot it out of your way."
- Dave, Mega Play March/April 1992