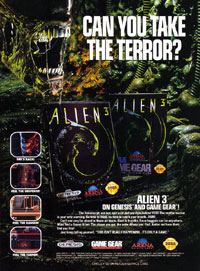 In space, no one can hear an alien coming up behind them...
Alien 3
Arena
8 megabits
The Genesis version of Alien 3 has been criticised by some for having repetitive gameplay, with every level requiring you to rescue a set number of prisoners and then escape. While there is indeed some truth to that statement, I'm not sure that Alien 3 is really any more repetitive than most other games in its genre, and its fantastic presentation more than makes up for its supposed shortcomings.
The graphics in Alien 3 are certainly impressive, with several layers of smooth parallax scrolling evident in each level, and cool digitised photographs of drooling aliens and such between rounds. The locales that the player guides Ripley though are also quite varied, ranging from massive industrial settings to an eerie alien hive.
What really makes this game for me, though, is the incredible quality of its audio. At a time when the Genesis system was first starting to be criticised for its supposed lacklustre aural capabilities relative to the SNES, Alien 3's sound and music were like a breath of fresh air. The music is crystal clear and perfectly suited to each stage, starting with thumping electronic scores early on and evolving into unsettling atmospheric numbers for the later stages. The sound effects also deserve special mention, as Ripley's arsenal of machine guns and grenades sound just like you'd expect them to, while the deep and thunderous death of each alien she dispatches proves very satisfying to the player indeed.
In short, Alien 3 was just what the Genesis library needed at just the right time. Fresh from their success with Alien 3, the game's developers (Probe) went on to code the Genesis version of Mortal Kombat, which is another story for another time...