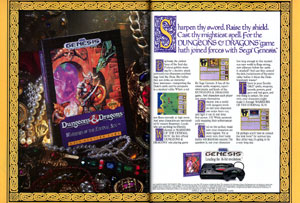 Check out those jewels...
Dungeons & Dragons Warriors Of The Eternal Sun
Sega
8 megabits
There weren't very many "western" RPGs released for the Genesis system, so in that respect Warriors of the Eternal Sun is somewhat unique.
Most of the game play takes place from the traditional overhead perspective, but the player is treated to a first person Phantasy Star-ish view inside caves and dungeons. The music is also quite groovy in places, which is kind of surprising when you compare this game to other western efforts in the genre like Might & Magic.
While not particularly spectacular, I enjoyed Warriors of the Eternal Sun. If nothing else, it was a nice change of pace from all of the fighting and platforming games being released at the time.
Warriors Of The Eternal Sun won Video Games & Computer Entertainment's "Best Role-Playing Video Game" award in their "Best Games of 1992" feature.
"Hey, this is a good quest! I thoroughly enjoy the overhead perspective instead of first-person for reason of sanity. The control is very good, and the quest is fun enough to warrant a look-see."
- Sushi-X, EGM May 1992
"I don't know how to classify this game. It has very little to appeal to D & D fans and it just doesn't have what RPG fans are looking for."
- Mike, Mega Play May/June 1992