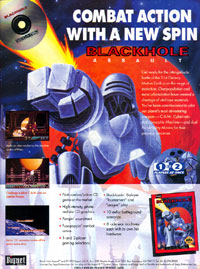 Where's Ernest Borgnine?
Black Hole Assault
Bignet
CD-ROM
This one-on-one robotic fighting game was the CD-ROM sequel to Heavy Nova (which was also a CD-ROM title, in Japan at least). Doomed to endless Street Fighter II comparisons, Black Hole Assault perhaps didn't attract the kind of audience in North America that it deserved. On the other hand, I've never played it so perhaps it got exactly what it deserved...
"Playing off the hype that Street Fighter 2 has created, Black Hole uses the CD to provide some jammin' tunes and extra memory for great character animations."
- Steve Harris, EGM December 1992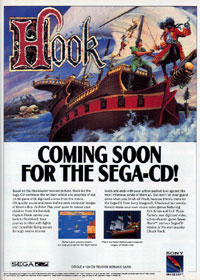 From the hit movie!
Hook
Sony Imagesoft
CD-ROM
The Sega CD version of Hook was apparently the same as the cartridge version, aside from the inclusion of digitised video from the film and "never-before-seen" 3D images of Hook's ship...
Make My Video: C+C Music Factory
Sony Imagesoft
CD-ROM
Lest we forget, amongst our PlayStations and PSPs, just how crappy Sony's games used to be, behold a reminder of Sony's sordid past: the Make My Video series for the Sega CD.
Featuring acts such as "Marky Mark and the Funky Bunch" and "C+C Music Factory", many credit this series alone for the tarnished image of the Sega CD system in history...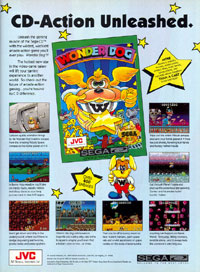 From the house of Croft.
Wonder Dog
JVC/Core Design
CD-ROM
A rarity for early Sega CD titles (or later ones, for that matter), Wonder Dog didn't start life as a cartridge game with CD-ROM frippery added in at the last minute. Instead, the game made good use of the CD-ROM format for its splashy and distinct visual style as well as its music and cinema displays.
In an interesting historical footnote, for some reason this game appears to have struck a real chord with Dave Halverson at DieHard GameFan magazine, as he spent the next several years after its release referring back to Wonder Dog in various articles and hounding Core design for a sequel...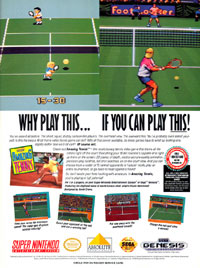 Motion-picture-quality animation?
Amazing Tennis
Absolute Entertainment
4 megabits
The third Genesis tennis title, Amazing Tennis supposedly featured more realistic graphics than its competitors. Opinion on the game itself is somewhat mixed...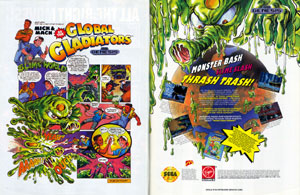 Fries not included.
Mick & Mack As The Global Gladiators
Virgin
8 megabits
Despite the double-whammy of being saddled with both a McDonald's license and an environmentally friendly theme, Global Gladiators was actually considered to be an excellent game upon its release.
In an interesting twist, the game was coded by David Perry, who would go on to great fame and fortune (sort of) with the Earthworm Jim series.
Global Gladiators won Video Games & Computer Entertainment's "Best Sound in a Video Game" award in their "Best Games of 1992" feature.
"Global Gladiators on the Genesis is a beautifully crafted game, filled with tons of animation, colorful graphics and hilarious sound effects."
- Andy Eddy, VG&CE December 1992
"The graphics are highly detailed and the sounds feature voice and other digitized effects. Plenty of levels and hidden surprises!"
- Martin Alessi, EGM September 1992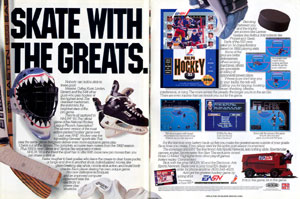 "If it's in the game, it's in the game!"
NHLPA Hockey '93
Electronic Arts
8 megabits
Electronic Arts didn't disappoint with their latest revision of NHL Hockey. This year's release featured an official NHL Player's Association license, which is apparently a good thing...
"The sounds are unbelievable (the echo of the puck hitting a wall is perfect), the instant replay also captures funny moments like a photographer taking a picture of a hockey player being beaned with the puck. Classic!"
- Sushi-X, EGM September 1992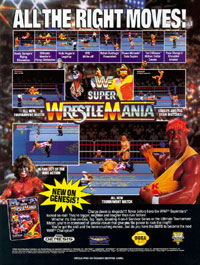 "Never before have the WWF Superstars looked so real!"
Super Wrestlemania
Flying Edge
4 megabits
Sega never got around to releasing Wrestle War in North America, so it seems Flying Edge decided to fill the void with Super Wrestlemania. Wrestling greats of the day such as Hulk Hogan, Randy Macho Man Savage and The Ultimate Warrior all made appearances, and had "never looked so real!"