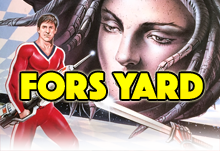 1994
"During the all-important Christmas shopping month of November, TRSTS reports that Sega sold 63 percent of all the 16-Bit video game systems."
- Ed Semrad, EGM March 1994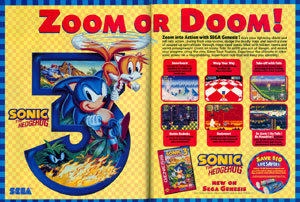 The Life Savers promotion is rather unique...
Sonic The Hedgehog 3
Sega
16 megabits
After the somewhat disappointing Hedgehog drought of 1993 (and no, Sonic Spinball doesn't count), Sega's famous blue mascot returned in style in Sonic 3. Featuring more of the same platforming action as its predecessors, albeit with a sort of "rendered" visual style, the game received excellent reviews upon its release.
It also has to be said that Sega's February 2 launch date and accompanying "Hedgehog Day" campaign for the game were rather inspired :)
"The graphics in Sonic 3 are a huge departure from both one and two and are by far the best (on cart) yet. The amount of background scrolling is unbelievable, as are the colors on screen, shading and detail."
- E. Storm, Gamefan March 1994
"Sonic 3 is simply the perfect Sonic game. It beats out all the previous Sonics with outstanding graphics, more hidden items and new items like the many types of shields... It seems unlikely that Sega will be able to top this one."
- Ed Semrad, Electronic Gaming Monthly March 1994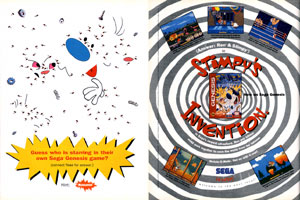 Don't wiz on the electric fence!
Ren & Stimpy In Stimpy's Invention
Sega
8 megabits
The Genesis interpretation of John Kricfalusi's deranged cartoon series debuted in 1994 without much fanfare. It must have done okay, though, as the franchise eventually found its way onto the Game Gear as well...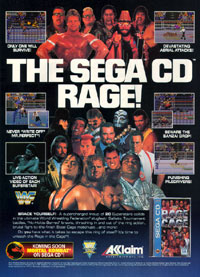 Brace yourself!
WWF Rage in the Cage
Acclaim
CD-ROM
Featuring such popular WWF stars of the day as Randy "Macho Man" Savage, Bam Bam Bigelow, and "The Million Dollar Man" Ted DiBiase, WWF Rage in the Cage for the Sega CD distinguished itself from other wrestling games by featuring video clips of the stars in action.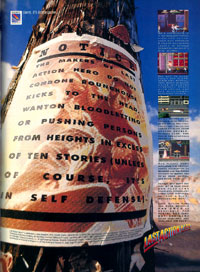 Not to be confused with the Genesis conversion of Jingle All The Way...
Last Action Hero
Sony Imagesoft
8 megabits
Released in theatres the same summer as Jurassic Park, Last Action Hero proved to be an embarrassing public failure. Undaunted, Sony Imagesoft decided to release an equally underwhelming video game version of the film for the Genesis, SNES, Game Boy and Game Gear.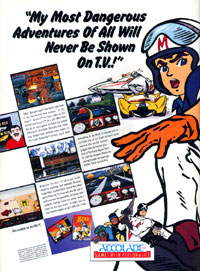 Be ready for anything!
Speed Racer
Accolade
8 megabits
The popular anime series Speed Racer was scheduled to come to the Genesis and SNES in 1994 from Accolade. Unfortunately, it appears that the game never made it to release...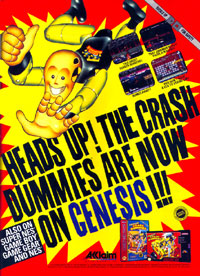 Buckle up for safety.
Crash Dummies
Acclaim
8 megabits
I'm not quite sure what possessed Acclaim to acquire the "Crash Test Dummies" license, but versions of this game were released not only on the Genesis, but Game Boy, SNES, Game Gear and the Master System as well...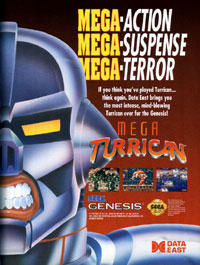 Mega-Play!
Mega Turrican
Data East
8 megabits
The popular Amiga action/platform series Turrican received its second Genesis instalment in 1994. Although the SNES versions are generally regarded as superior, Mega Turrican on Genesis nevertheless received excellent reviews upon its release for its impressive graphical effects and solid game play.
"This game is crammed with special effects, including scaling and rotation, that you wouldn't think possible on the Genesis and huge levels, filled with hidden rooms and power-ups."
- Brody, Gamefan March 1994
"The levels are huge and your character's swing cable is a great and innovative weapon."
- Mike Weigand, EGM February 1994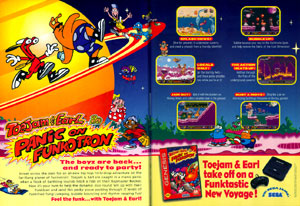 Yo, Sega Jams?

ToeJam & Earl In Panic On Funkotron
Sega
16 megabits

It took a surprisingly long time for Sega to release a sequel to their 1991 hit ToeJam & Earl, and when the game finally did arrive it bore little resemblance to the original. The isometric playfield of yore had been replaced with a more familiar side-scrolling design, and players were now charged with searching for humans hiding on Funkotron instead of looking for segments of the duo's rocket. Despite the change in style, however, Panic On Funkotron was well received upon its release by players and the gaming press alike.

In 2007, ToeJam & Earl In Panic On Funkotron was re-released on the Nintendo Wii Virtual Console service.

"Fans of the original Toe Jam & Earl will probably not be able to live without this game, and rightly so - there is more to explore this time around."
- Mike Weigand, EGM February 1994

Previous | 1 | 2 | 3 | 4 | 5 | 6 | 7 | 8 | 9 | 10 | 11 | 12 | 13 | 14 | 15 | 16 | 17 | 18 | 19 | Next