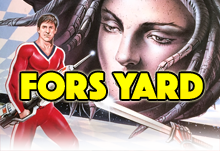 1994
"I thought Genesis was such a great product that I gave one for free to every Electronic Arts employee. But 32X is just a stop gap. It's a financial event for Sega as a company. It's not a good product for consumers."
- Trip Hawkins, Next Generation Premiere Issue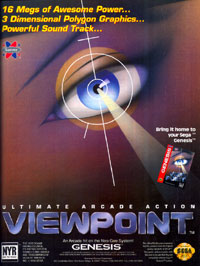 Pro Gear Spec!
Viewpoint
Sammy
16 megabits
Viewpoint is somewhat unique, in that it was the only Neo Geo translation for the Genesis that wasn't a one-on-one fighting game. The translation itself, however, received mixed reviews, and led to the release of more NG fighting game conversions instead...
"As far as the translation goes, most of the Geo game is here. The more complex polygons have been scaled down or lost a little color but the great feeling of Viewpoint is 100% intact, and the music is surprisingly close... with some speech even!"
- Takahara, GameFan November 1994
"American Sammy has done a good job at converting this Neo Geo shooter. However, there is some bad slowdown, and the music comes nowhere near the original."
- Mike Weigand, EGM December 1994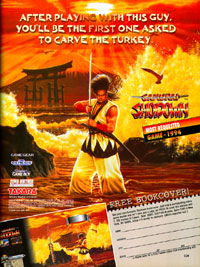 Free bookcover?
Samurai Shodown
Takara
24 megabits
The first game in the Samurai Shodown series made its way to the Genesis in 1994 sans sprite scaling, but otherwise intact.
"Fans of the arcade game won't be disappointed with this solid translation, complete with blood and all the varied endings of the original."
- Next Generation Premiere Issue
"For those of you wanting bigger fighters than those in the Super NES version, look no further. The scaling is out, but the graphics are very close to the Neo version, with the omission of the fighter Earthquake."
- Mike Weigand, EGM November 1994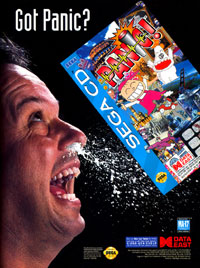 I wonder to myself...
Panic!
Data East
CD-ROM
I don't know much about Panic!, but the game is notable, if for no other reason, for being one of the last games to feature music by Tokuhiko "Bo" Uwabo of Phantasy Star and Space Harrier II fame...
"Panic is not much of a game, rather it's a series of visual gags. It's fun to watch all the hilarious things going on, and a lot of it is downright twisted."
- Ed Semrad, EGM October 1994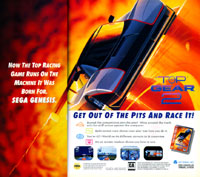 "Whip around the track solo for stiff action."
Top Gear 2
Vic Tokai
8 megabits
The second game in the Top Gear series features split-screen play across 64 different courses.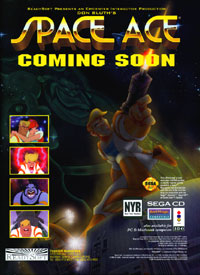 A Secret of Nimh LD game would have been cool...
Space Ace
ReadySoft
CD-ROM
Space Ace joined Dragon's Lair in 1994 to complete the Bluth laser disc collection for the Sega CD.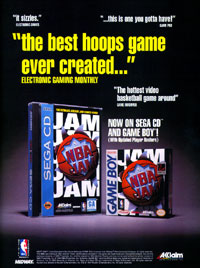 Shut up and jam.
NBA Jam
Acclaim
CD-ROM
NBA Jam came out for almost every system available, the Sega CD being no exception...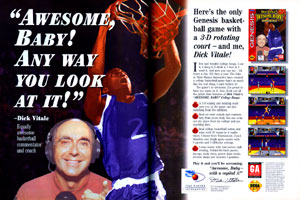 Awesome baby?
Dick Vitale's "Awesome, Baby!" College Hoops
Time Warner Interactive
16 megabits
TWI pushed the "3-D rotating court" as one of the major features of their Genesis basketball effort, Dick Vitale's "Awesome, Baby!" College Hoops. It can't have been that great, however, as the Dick Vitale series only seems to have lasted for this one game...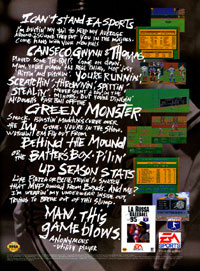 "I can't stand EA Sports."

La Russa Baseball '95
Electronic Arts
16 megabits

Tony LaRussa makes an appearance in the latest game from EA. Surprisingly, it's not an expansive cel-shaded JRPG, but a baseball simulation...

Previous | 1 | 2 | 3 | 4 | 5 | 6 | 7 | 8 | 9 | 10 | 11 | 12 | 13 | 14 | 15 | 16 | 17 | 18 | 19 | Next