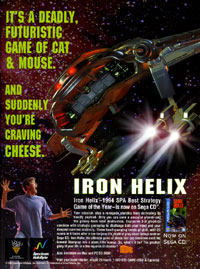 The lack of screenshots is somewhat worrying...
Iron Helix
Spectrum HoloByte
CD-ROM
In addition to the Sega CD version, this early FMV adventure was also released for Windows and Macintosh computers.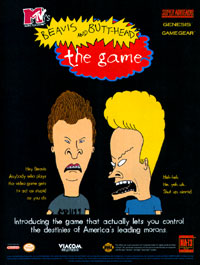 Work sucks.
Beavis And Butt-Head: The Game
Viacom New Media
16 megabits
I suppose it was inevitable that a popular cartoon franchise like Beavis And Butt-Head would eventually come to the Genesis, joining the ranks of such titles as Ren & Stimpy and Taz.
"Fans will probably want to check it out, others beware."
- Mike Weigand, EGM October 1994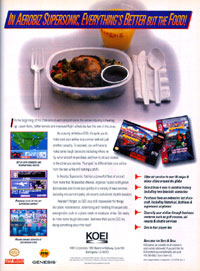 Koei's latest strategic Genesis effort.
Aerobiz Supersonic
Koei
12 megabits
A sort of airline strategy simulation, Koei's Aerobiz Supersonic is one of the harder to find titles in the Genesis library.
"As always, Koei manages to make a unique strategy game that becomes very entertaining when you really get into it."
- Mike Weigand, EGM January 1995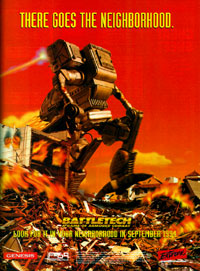 Genesis mecha action in Battletech
Battletech: A Game Of Armored Combat
Extreme Entertainment Group
8 megabits
The isometric mech-battle game was well received for its challenging gameplay and broad selection of weapons. It looks a bit like the games in EA's Strike series, only with more of a sci-fi flair.
"The attention to detail is immaculate and the challenge and fun factor don't wear off, even after many hours! Battletech will prove to be a sleeper hit among action and simulation fans!"
- Danyon Carpenter, EGM August 1994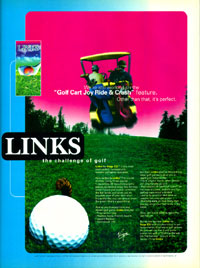 Golf comes to the Sega CD in Links.
Links
Virgin
CD-ROM
For those who enjoy golf simulations but detest celebrity endorsements, Virgin's Links provides a nice alternative from Arnold Palmer Golf...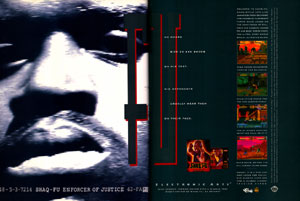 "Welcome to Kung-Fu, Shaq-style."
Shaq-Fu
Electronic Arts
24 megabits
It seems it wasn't enough for EA to give Michael Jordan his own action game... Shaq wanted in on the action too. Witness Shaq-Fu, featuring fluid animation from Delphine Software, the people who brought you Flashback. How the mighty had fallen...
"Shaq-Fu includes everything a good fighting game needs, with the exception of good fighting."
- Next Generation Premiere Issue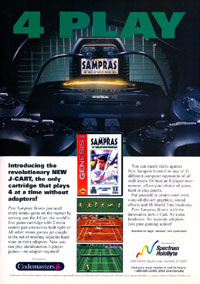 4 way play without EA!
Pete Sampras Tennis
Spectrum HoloByte
16 megabits
Back in the days when game systems only had two controller ports, Pete Sampras Tennis must have seemed revolutionary with its inclusion of two extra ports on the cartridge itself...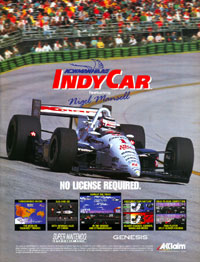 Where's Emerson Fittipaldi when you need him...
Newman Haas IndyCar Featuring Nigel Mansell
Acclaim
16 megabits
After an extremely successful career as a driver on the Formula One circuit, Nigel Mansell came to North America and won the CART World Series in 1993. Never ones to miss a potentially lucrative license, Acclaim swept in to create Newman Haas IndyCar, and the rest is history.