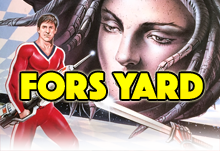 1994


"What's it like on Saturn?" Gamers would find out soon!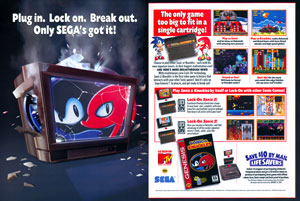 Sega's first "expansion pack"...
Sonic & Knuckles
Sega
16 megabits
In the fall of 1994 Sega released their first (and only) Genesis cartridge to feature "lock-on technology" - Sonic & Knuckles. This feature allowed players to insert older Sonic games into Sonic & Knuckles' own secondary cartridge slot, introducing new gameplay elements into games that had already been out for years. Sonic & Knuckles also contains a new Sonic game in its own right, of course, but it is the game's unique modularity that drew the lion's share of media attention upon its release.
"This type of "backward compatibility" has been the norm in the computer game world for a while, hopefully it'll catch on with video games too! Imagine a backward compatible Phantasy Star cart or something!"
- Mr. Goo, GameFan November 1994
"Sonic & Knuckles is the ultimate Sonic game. This is the best game of the series and the lock-on technology offers new life to older games."
- Ed Semrad, EGM December 1994
"The company's latest character, a red echidna with dreadlocks called Knuckles, has a certain hip appeal that Sonic is starting to lose."
- Next Generation Premiere Issue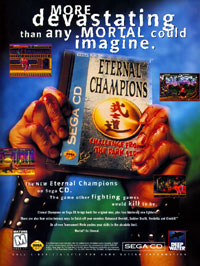 Deep Water: Sega's "mature" label.
Eternal Champions: Challenge From The Dark Side
Sega
CD-ROM
More of a "director's cut" than a sequel, Eternal Champions: Challenge From The Dark Side features more characters, more moves, and more secrets than the original Genesis cartridge. The game was well received upon release, but the Sega CD was on its way out by this point, and Challenge From The Dark Side appears to have been regarded as the last good game for a dying system.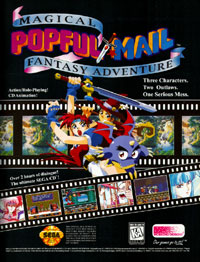 Gaw!
Popful Mail
Working Designs
CD-ROM
Popful Mail is an enjoyable action/RPG originally designed by Falcom and translated for North American audiences by Working Designs. The amusing storyline, cute anime-style characters, and great voice acting combine to create a memorable experience, and one of the Sega CD's best games.
"Popful Mail... features a great soundtrack, nicely animated intermissions, a decent story, and detailed, highly animated characters. No doubt about it, this is a quality game."
- E. Storm, GameFan January 1995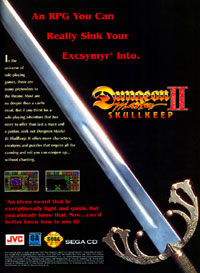 Pointy objects and demons together at last.
Dungeon Master II: Skullkeep
JVC
CD-ROM
There seemed to be a lot of computer games ported to the Sega CD in its waning days, one such title being Dungeon Master II: Skullkeep. Similar to Eye of the Beholder, Skullkeep is a reasonably straightforward dungeon crawling action/RPG. Fans of the genre were no doubt pleased to see just about anything other than another FMV title released...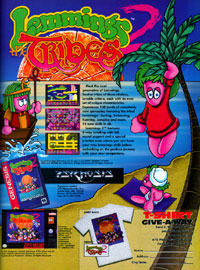 Lemmings: The Next Generation.
Lemmings 2: Tribes
Psygnosis
2 megabits
Games of this sort were never really my thing, but the Lemmings series seemed to be very popular in the 16-Bit days, so perhaps I missed out...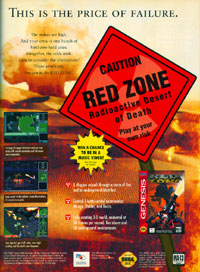 Radioactive desert of death!
Red Zone
Time Warner Interactive
16 megabits
Red Zone is an overhead-perspective shooting game that switches between missions in a helicopter and missions as a soldier on foot. Developed by Zyrinx, the game pushes the Genesis hardware into unfamiliar territory with the use of software rotation and full motion video sequences.
"Both the combat and aerial sequences are innovative and enjoyable with plenty of weapons to use and missions to complete."
- Mike Weigand, EGM December 1994
"I DON'T CARE HOW GOOD THE VISUALS ARE, I AM NOT GOING TO SUFFER THIS MUCH TO SEE THEM!"
- Mr. Goo, GameFan November 1994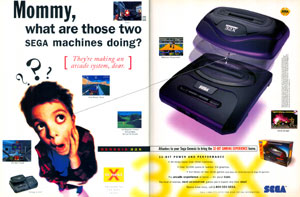 Game Ovahhhh!
Virtua Racing Deluxe
Sega
24 megabits
More cars, more tracks, more colours and more polygons make the 32X version of Virtua Racing a significant improvement over the pricey Genesis release. Indeed, popular opinion puts the 32X version of the game ahead of TWI's Saturn port, which really ought to have been better considering the superior hardware involved...
In any case, Virtua Racing Deluxe proved to be a promising start for the 32X, and a good demonstration of the capabilities of the hardware when put in the hands of a skilled development team.
"VR DLX is everything I'd hoped for and more, and has proven to this reviewer that the 32X is capable of great things."
- E. Storm, GameFan December 1994
"The increased 32X color palette of 32,768 colors makes a huge difference in the graphics, leaving the grainy, dithered look of the pricey Genesis version far, far behind."
- Next Generation Premiere Issue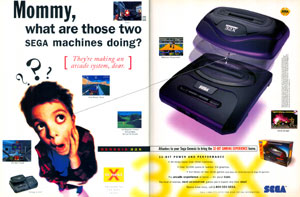 32X's hardware Wookies are finally put to good use...
Star Wars Arcade
Sega
24 megabits
A surprisingly accurate translation of Sega's Model 1 arcade shooter, Star Wars Arcade makes excellent use of the 32X system's polygon generating hardware.
"Once you've wired negotiating the trenches on the Death Star, it is just so cool. It makes Star Fox look like 8-bit Zaxxon. If you want to experience a sampling of the 32X's power and you like 3D shooting, Leia is waiting."
- E. Storm, GameFan December 1994
"An excellent translation of a good game, and a good hint of what to expect from 32X."
- Next Generation Premiere Issue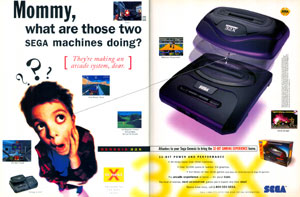 Welcome to your Doom!

Doom
Sega
24 megabits

Doom for the 32X turned out to be a bit of a mixed blessing, in that it was a cool title to have on the new system, but it was converted in such a rush for launch that certain corners had to be cut. The most notable deficiencies include the game's lack of full screen play, and the fact that the sprites representing the minions of hell are always found to be facing directly towards the player.

To make matters worse, the 32X version of Doom had to compete with a far superior port of the game available for Atari's Jaguar system (programmed by John Carmack himself). Whether or not this had any impact on sales is unclear, but it nonetheless took some of the sheen off of Sega's latest technology when it really needed to stand out from the crowd.

"What makes me even happier is that I'm playing DOOM with my Sega six button, and not a clunky keyboard or PC controller. I purposely never played DOOM until now, vowing that I would not, until it appeared on a real 'game' platform."
- E. Storm, GameFan December 1994

"This isn't the PC version, but it still does a great job with the first-person, point-the-weapon-and-shoot idea. This has to be the ultimate stress reliever!"
- Mike Weigand, EGM January 1995

Parting Thoughts...

"Sega still plans to bring out an all-in-one Genesis with 32X and CD built-in sometime in '95, but isn't making any official announcements on the progress of the project. The slow sales of CD-X (a combination Sega CD and Genesis unit) may be triggering caution."
- Next Generation Premiere Issue

"32X is now cashing in all the brand loyalty Sega has succeeded in nurturing, leaving Saturn to fend for itself."
- Next Generation Premiere Issue

"Sega has spent the last nine months or so playing catch-up with Sony after a publisher-friend tipped Sega off about the power of PlayStation. New specs and development tools only recently arrived with third parties, superseding Sega's original description of the project. The main difference between them is apparently the addition of more dedicated processors taking work away from the two CPUs."
- Next Generation Premiere Issue

"These last minute improvements - while no doubt improving Saturn's capabilities - may mean a problem with initial software support either being thin on the ground, or not showing Saturn's true potential."
- Next Generation Premiere Issue

Previous | 1 | 2 | 3 | 4 | 5 | 6 | 7 | 8 | 9 | 10 | 11 | 12 | 13 | 14 | 15 | 16 | 17 | 18 | 19